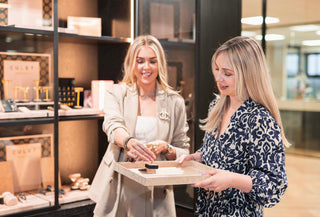 our story
"Our mission is to contribute to a worldwide movement for sustainable, high-quality and fun jewellery that can last a lifetime. Beautiful, playful but responsible products that will be loved, and that will last."
– Kim & Nikki de Jong
Founders, Culet Jewellery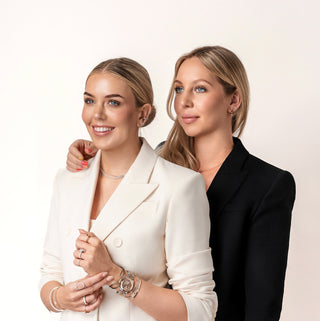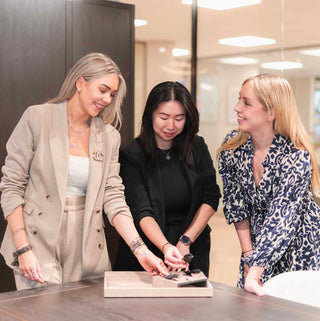 About us
We are Culet, the go-to destination for women who believe in their worth. A leading Dutch fine jewellery brand known for its modern and high-quality jewellery made from recycled 18 karat gold, natural diamonds, and natural gemstones. 
Growing up as the 6th generation in a family of diamond merchants and goldsmiths, founders Kim en Nikki grew up surrounded by gold and diamonds.  Their mother, uncle and grandmother - who founded Pas Diamonds with their grandfather in the 70's - all worked in the jewellery industry. They fell head over heels in love with the craft and these formative experiences fuelled their desire to bring a new, playful approach to fine jewellery.
At Culet, our high-quality creations bridge the gap between traditional luxury jewellery and modern style. We make fine diamonds accessible for everyone and are committed to elevating the aesthetic and ethical standards of the jewellery we wear every day. Create your own unique ear party with our signature gold piercings and earrings. Mix-and-match our collection of necklaces, rings, and bracelets to build your personal jewellery wardrobe. 
Our jewellery doesn't just look good, it also makes a statement. We reject a throwaway culture of imitation diamonds and gold alternatives. They may be cheap but at what cost? They are here today and gone tomorrow as fashions change or they lose their shine.  We embrace well-made, sustainable pieces that can be worn forever and will never go out of style. That's why we opt for recycled gold and natural diamonds and gemstones that are sourced ethically and without any conflicts. We know where our materials come from.  Our pieces are more than just accessories, they are investments, they are quality, they will last. 
Our mission is to help women appreciate the value of real gold and real diamond jewellery. We believe in promoting a culture of mindful consumption and bringing a new standard of luxury to the world of jewellery. We are part of the new global movement for sustainable, high-quality jewellery that will last a lifetime. 
Culet is the sanctuary of the self-aware woman who is looking for a piece of jewellery that elevates her look to a higher level. We embody the essence of the confident and authentic woman who knows what she wants and who values quality and style. The woman who appreciates responsibly made jewellery that she will love and care for for years to come. 
Because our generation deserves the perfect piece of jewellery that we will always want to, and be able to wear.
So go ahead, treat yourself to some solid gold beauty.
You are solid gold