SUSTAINABILITY
OUR PROMISE
As a company that sells products that can last a lifetime, we naturally advocate considered purchases that are treasured and cared for, and are anti-fast fashion. We are aligned with the ten principles of the United National Global Compact. 
All the gold we use is 100% RJC COC certified recycled gold.
Our production facilities are audited RJC (responsible jewellery council) member facilities.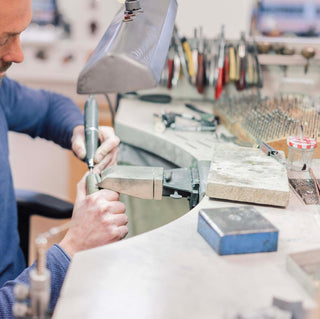 Ethical Diamonds
We only use real, natural diamonds, never synthetic (also called lab grown) diamonds. We believe in jewellery as an investment, and real, natural diamonds are rare and hold their value better then lab grown. Moreover, the natural diamond industry supports communities and economies around the world. Our natural conflict-free diamonds are purchased from suppliers who are certified according to the Kimberley Process.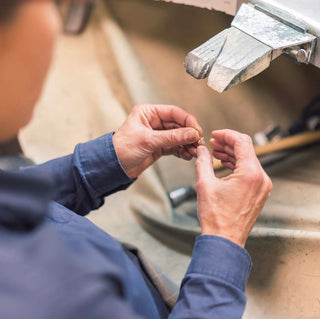 RECYCLED GOLD
We exclusively use solid 18 karat gold, because we believe jewellery should be an investment. 18 karat gold is the purest form of gold still suitable for daily wear: it is 75% pure gold. We love it for its rich, beautiful hue. It is extremely unlikely to cause allergic reactions due to the low alloy to gold ratio. All gold used in our jewellery is100% RJC COC recycled gold. Since our jewellery is hallmarked at Waarborg Holland, Europe's Assay Office you can be assured of the quality and authenticity of our 18 karat gold jewellery.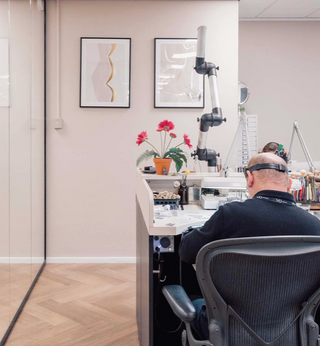 PRODUCTION
At Culet Jewellery we only use reputable sources for our jewellery. Our production facilities are audited RJC-member facilities. All elements of our items of jewellery are sourced from reputable suppliers that we have longstanding working relationships with. We work closely with our suppliers when creating our jewellery to ensure that our jewellery is produced in a way that meets our ethical standards and high labour standards. Repairs and adjustments take place in our own atelier.
"Our mission is to contribute to a worldwide movement for sustainable, high-quality jewellery that can last a lifetime. Sustainability is at the heart of everything we do. We are against the throwaway culture and stand for responsible products that will be loved and that will last"